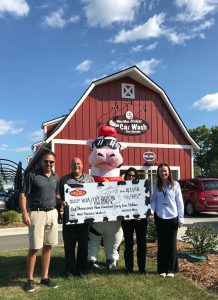 Columbus, Ohio, August 30, 2018— Today Moo Moo Express Car Wash announced the donation of $6,945 to the Volunteers of America of Greater Ohio's Operation Backpack Campaign. Monetary  donations were collected at all 13 Central Ohio Moo locations August 10-12, 2018, and customers donating $5 received a coupon for a free "Whole Plus" car wash their next visit, a $13 value.
"Through the hard work and dedication of our staff and the extreme generosity of our customers, we were able to more than triple last year's Operation Backpack Campaign donation," said John Roush, Chief Executive Officer of Express Wash Concepts and Founding Partner of Moo Moo Express Car Wash.
Operation Backpack provides school supplies and backpacks to thousands of homeless children. Nationwide, the average cost to fill a backpack is $87— an expense very few families living in shelters can afford. These children face many challenges and tremendous stigmatization – as a result, less than 25% graduate from high school. This year in Central Ohio, more than 4,100 children received donated backpacks through Operation Backpack as they headed back to the classroom.
"We are grateful to Moo Moo Express and its customers for helping put brand new backpacks filled with school supplies in the hands of more kids this year than ever before. With smiles on their faces, kids experiencing homelessness returned to the classroom with confidence and ready to learn," said Debbie Gillum, Marketing and Digital Communications Specialist at Volunteers of America of Greater Ohio.
Moo Moo Express is Central Ohio's leader in the high-end, express car wash market. The Moo operates in the following Central Ohio neighborhoods: Clintonville, Dublin, Gahanna, Grandview, Grove City, Heath, Hilliard, Lancaster, Marysville, Pickerington, Polaris, Reynoldsburg and Upper Arlington. The company's 14th location is scheduled to open late September, 2018 in Bexley, with a 15th location in Northland to open in late 2018.
About Moo Moo Express Car Wash:
Founded in 2008, Moo Moo Express Car Wash is Central Ohio's award-winning, premier express car wash with 15 locations and growing. The Moo's fast, high-quality, and environmentally friendly car washes are 100% satisfaction guaranteed, and available in four options: Fat Free ($5), Low Fat ($8), Whole Plus ($13) and signature Crème De La Crème VIP ($18). The Stampede Unlimited Wash Club, starting at $15.99 a month per vehicle, offers unlimited car washes. Special Fleet pricing is also available. Family-owned and operated, Moo Moo Express is proud to be an avid supporter of the Central Ohio community. For more information, locations and hours, visit www.moomoocarwash.com.
 
About Express Wash Concepts:                                                                                                                  
Express Wash Concepts is the parent company of Central Ohio-based Moo Moo Express Car Wash, Dayton Ohio-based Flying Express Car Wash and the upcoming Clean Express Auto Wash. With 18 locations and rapidly growing, Express Wash Concepts' portfolio of award winning, premier express car washes are 100% satisfaction guaranteed. For more information, please visit www.expresswashconcepts.com.
###