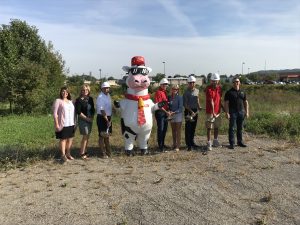 Columbus, Ohio, October 1, 2018—Moo Moo Express Car Wash today announced that construction is beginning on its 16th Central Ohio location. The Newark Moo is scheduled to open in early 2019, and will be located at 1246 N. 21st St. Once completed, the white barn-themed express car wash will feature 36 vacuum bays – 12 more than the nearby Heath location–, a retail office, and will remain fully staffed during operating hours.
"Licking County's reception to our Heath Moo, which opened in 2016, has been phenomenal," said John Roush, Chief Executive Officer of Express Wash Concepts and Founding Partner of Moo Moo Express Car Wash. "We look forward to expanding into my hometown of Newark, and providing not only the best customer service possible, but the convenience of a fast, fun and eco-friendly car wash right on 21st Street."
Moo Moo Express currently operates in 14 Central Ohio communities including Clintonville, Dublin, Gahanna, Grandview, Gove City, Heath, Hilliard, Lancaster, Marysville, Pickerington, Polaris, Reynoldsburg and Upper Arlington. The Bexley Moo opened in September, 2018 and a Northland location will open this December.
The company's three-minute, environmentally friendly car wash system features the industry's best gentle Envirosoft wash material— a closed cell, soft foam material that safely and effectively removes dirt and road film from vehicles. Envirosoft eliminates the potential of scratching or transferring absorbed sediment from one vehicle to the next. Customer satisfaction is 100% guaranteed.
Moo Moo Express has also been recognized by WaterSavers® and the International Carwash Association® for preventing water pollution by treating wash water prior to returning to the environment. The company effectively washes vehicles with under 20 gallons of fresh water— less than the typical home washing machine, and drastically less than the 120 gallons of water typically used when washing at home or older car wash facilities.
Moo Moo Express wash options include the $5 "Fat Free," $8 "Low Fat," $13 "Whole Plus" and $18 signature "Crème De La Crème VIP." The Stampede Unlimited Wash Club is available from $15.99 a month and up and is accepted at all Moo Moo Express locations. Special fleet (per vehicle, per wash) pricing is also available for a minimum of 5 vehicles. Complimentary vacuums are available, and the onsite, fully staffed office features gift card and retail products for purchase including bug, dash and wheel wipes, drying cloths and air fresheners.
About Moo Moo Express Car Wash:
Founded in 2008, Moo Moo Express Car Wash is Central Ohio's award-winning, premier express car wash with 16 locations and growing. The Moo's fast, high-quality, and environmentally friendly car washes are 100% satisfaction guaranteed, and available in four options: Fat Free ($5), Low Fat ($8), Whole Plus ($13) and signature Crème De La Crème VIP ($18). The Stampede Unlimited Wash Club, starting at $15.99 a month per vehicle, offers unlimited car washes. Special Fleet pricing is also available. Family-owned and operated, Moo Moo Express is proud to be an avid supporter of the Central Ohio community. For more information, locations and hours, visit www.moomoocarwash.com.
 
About Express Wash Concepts:                                                                                                                  
Express Wash Concepts is the parent company of Central Ohio-based Moo Moo Express Car Wash, Dayton Ohio-based Flying Express Car Wash and the upcoming Clean Express Auto Wash. With 19 locations and rapidly growing, Express Wash Concepts' portfolio of award winning, premier express car washes are 100% satisfaction guaranteed. For more information, please visit www.expresswashconcepts.com.
###