Originally published November 12, 2017,  The Columbus Dispatch
Read the original article here.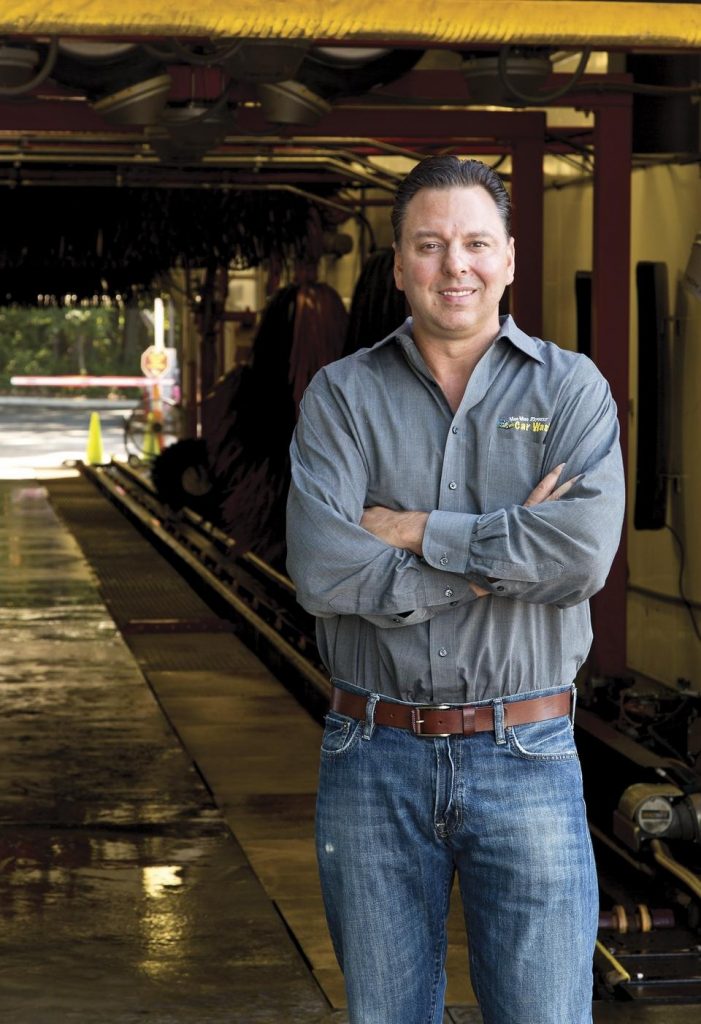 When the door to one carwash closes, another door opens, or at least it did for John Roush after his favorite carwash shut down.
Prompted to start his own carwash, he drew inspiration from the historic Hunter's Run Barn in Pickerington, which burned down in 1996, to develop the cow-and-dairy theme of Moo Moo Express Car Wash's menu.
Beneath the fun brand and customer-service focus is a cost-efficient operation modeled on processes borrowed from Roush's background in aviation and construction management.
"A lot of what we do I kind of take from flying: checklists, preflight inspections," says Roush, a licensed pilot who studied aviation business management at Ohio State University. He managed construction projects as vice president of operations with Pickerington-based Berry & Miller Construction before founding Moo Moo. The company has cut down on construction costs and time-to-market by building its own carwashes.
As Moo Moo Express Car Wash looks toward continued growth across Ohio, Roush talked about creating a memorable retail experience for carwash customers and instilling pride in his employees.
Q: How did you get into the carwash business?
A: I literally couldn't find any other places to get a good carwash. So, I started looking into this business. I thought, if I'm going to do this, I want to do this with a building that has some character and a brand to it, rather than these squatty, skinny, long buildings that didn't mean anything in consumers' minds.
Q: Did you have any marketing experience before developing the Moo Moo brand?
A: My marketing background is from being observant of other great business operators in our community that have great marketing. Our wash types, we sit around the office and laugh about the elements of certain programs that we're doing, like our Stampede (unlimited monthly wash pass) program. We wanted to take all the common carwash vernacular and change it to our brand. I'm a humongous customer-experience person. Not only do we need to give the very best wash we can, but we also want to create a retail experience. In the past, a lot of car washers really missed that whole mark. Carwashes are usually dark and dingy and gross. I wanted nothing to do with that. We wanted people to come on-site and see this is a professional operation with a fun brand.
Q: Was your environmentally friendly approach to car washing a branding initiative?
A: Back in 2007 when I was researching this business model, I looked at all the different models of car washing. When I put some numbers to what we could wash, and I figured out that Ohio has 50 percent wash days, what I knew immediately was I needed the most efficient machine to wash as many cars on those hot days. You've got to make hay when the sun's shining. That got me into express tunnels and a conveyorized system. Investing in the most state-of-the-art equipment possible was not only a no-brainer business investment, but it also is a great investment in being efficient. I literally buy the very best equipment that is made in the carwash industry. Saving water and electricity, gas usage, chemical usage, chemical output into the sanitary system — what we build and how we operate is the most efficient you could possibly get.
Q: What's the biggest challenge you've overcome in building your business?
A: Creating a respectable, great place for my employees to work is probably my biggest challenge. It drives me nuts when I hear my managers say, 'I'm just a carwash manager.' I'm so quick to tell them, 'No, you're not. You're part of the best carwash company in the state.' I'm a board member on the International Carwash Association. I'm very involved in our industry. I get to see other operators, and I get to see just how good my people are. We do a lot internally to cherish and support and help our entire company and staff and team build. I really want them to come to work and feel great about where they are. I tell a lot of the young kids that work with us, I know you may not be here the rest of your life, but you're going to learn some of the most important life lessons here that you could ever get from a part-time job. You're going to learn about production, you're going to learn about equipment, you're going to learn about taking good care of customers and what it means to do that.