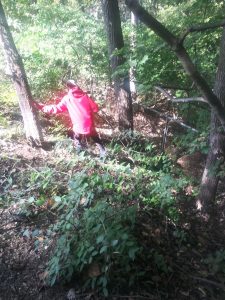 Columbus, Ohio, October 18, 2018— On Tuesday, October 16 Clintonville Moo Moo Express Car Wash employees participated in a neighboring trash round-up surrounding their property at 5160 North High St. in Clintonville. Organized by Clintonville Moo Site Manager Amber Michel, the environmental clean-up coincided with the company's "Moo Cares" initiative, in which employees are encouraged to proactively think and act on programs that positively impact their local communities.
"As a home-grown, locally owned company, we continually strive to leave the smallest environmental footprint possible," said John Roush, Chief Executive Officer of Express Wash Concepts and Founding Partner of Moo Moo Express Car Wash. "We want to be actionable leaders when it comes to making a difference, and whether it be a trash round-up or championing local community causes and fundraisers, we're proud to consistently step up and make a difference."
Moo Moo Express currently operates in 14 Central Ohio communities including Clintonville, Bexley, Dublin, Gahanna, Grandview, Gove City, Heath, Hilliard, Lancaster, Marysville, Pickerington, Polaris, Reynoldsburg and Upper Arlington. The company's Northland location will open December 2018, and a 16th location in Newark is scheduled to open in early 2019. The Clintonville Moo opened in January, 2016.
A designated "Elite" member of the Clintonville Chamber of Commerce, Moo Moo Express has been recognized for their support of the Chamber above and beyond regular Chamber duties. Locally, the company has sponsored and participated in the Clintonville 5K for Clintonville Schools, Clintonville's Student Citizens of the Year recognition program, Clintonville Cruise the 'Ville, Experience Clintonville and Clintonville Quest. Moo Moo Express has donated hundreds of gift cards to Central Ohio community fundraisers, thousands of free wash vouchers, and more than $45,000 for local non-profits including the American Heart Association, Mid-Ohio Food Bank, Muscular Dystrophy Association, Nationwide Children's Hospital, and Volunteers of America's Operation Backpack, among others.
Moo Moo Express invests millions of dollars in environmentally sustainable equipment and practices and has been recognized by WaterSavers® and the International Carwash Association® for preventing water pollution by treating wash water prior to returning to the environment. The company effectively washes vehicles with under 20 gallons of fresh water— less than the typical home washing machine, and drastically less than the 120 gallons of water typically used when washing at home or older car wash facilities, saving billions of gallons of water annually. Other environmentally conscious practices include:
All locations use only biodegradable solutions, with 99% efficient hot water systems that enable the heating of cleaning soaps, resulting to reduced chemical usage
Best-in-class sound deadening technology enhancements
On-demand, electronically timed VFD technology for both washes and vacuums that adjust power based on equipment usage
High-efficient LED lighting systems that maximize lighting efficiency
Lens sensors that shut off components when not in use
Moo Moo Express wash options include the $5 "Fat Free," $8 "Low Fat," $13 "Whole Plus" and $18 signature "Crème De La Crème VIP." The Stampede Unlimited Wash Club is available from $15.99 a month and up and is accepted at all Moo Moo Express locations. Special fleet (per vehicle, per wash) pricing is also available for a minimum of 5 vehicles. Complimentary vacuums are available, and the onsite, fully staffed office features gift card and retail products for purchase including bug, dash and wheel wipes, drying cloths and air fresheners.
About Moo Moo Express Car Wash: Founded in 2008, Moo Moo Express Car Wash is Central Ohio's award-winning, premier express car wash with 16 locations and growing. The Moo's fast, high-quality, and environmentally friendly car washes are 100% satisfaction guaranteed, and available in four options: Fat Free ($5), Low Fat ($8), Whole Plus ($13) and signature Crème De La Crème VIP ($18). The Stampede Unlimited Wash Club, starting at $15.99 a month per vehicle, offers unlimited car washes. Special Fleet pricing is also available. Family-owned and operated, Moo Moo Express is proud to be an avid supporter of the Central Ohio community. For more information, locations and hours, visit www.moomoocarwash.com.
About Express Wash Concepts: Express Wash Concepts is the parent company of Central Ohio-based Moo Moo Express Car Wash, Dayton Ohio-based Flying Express Car Wash and the upcoming Clean Express Auto Wash. With 20 locations and rapidly growing, Express Wash Concepts' portfolio of award winning, premier express car washes are 100% satisfaction guaranteed. For more information, please visit www.expresswashconcepts.com.